Sensual4U offers the ultimate Outcall sexy massage in London (Hotel massage, mobile massage, visiting massage).  We provide different types of sexy Outcall massages in London to choose from. The Sensual4U Masseuses are highly trained to provide the best in their services and they have been chosen for their beauty and stress-melting massage abilities.
Sensual4U Sexy Masseuses are professional and talented and we have been providing an inimitable Outcall massage in London for many years.  Our sensual and exciting Outcall massage in London includes a stunning masseuse who will visit clients at your chosen central London hotels, local London airports and private homes.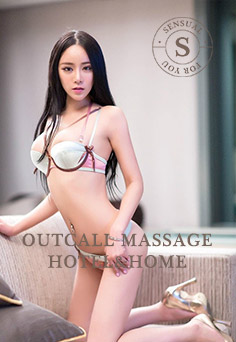 The Sensual4U Outcall massage in London is an experience that you will never forget because we have deployed special techniques only used at Sensual4U to provide our customers with an unforgettable experience. All our beautiful masseuses have been thoroughly trained to provide the very best Outcall massages in London through our training programme, "The Art of erotic massage."
The Sensual4U approach to Outcall massage in London
For hundreds of years massage has been a common method used to relieve stress, promote a sensual and excited state and induce a feeling of well being. The Sensual4U's Outcall massage in London will reach down to your deepest sensuality with a range of Sensual4U trained techniques.
What are the health benefits of Sensual4U Outcall massage in London?
Our unique special Outcall massage in London delivers a sexy, sensual experience which takes tantric massage to a new level. The thousands of skin receptors will react during your massage experience delivering deep pleasure through your mind and body.
Not only this but our massage will increase your heart activity and increase your circulation healthily.
Our masseuses provide a variety of erotic massages in London with both gentle and pressured techniques.
Our Sensual4U tantric massage in London will significantly slow down your body's negative stress chemicals and can help to reverse the effects that stress has had on your body and lower blood pressure.
When more pressure is applied during our erotic sex massage  the client's blood flow is more stimulated and oxygen supply to the blood is increased. Tense or knotted joints and muscles are eased and flexibility is increased.
The techniques applied during your Outcall massage in London
During the Sensual4U Outcall massage in London some of the techniques employed include 'effleurage' which is firm but gentle stroking of the body. The 'petrissage' method is a deeper body tissue rolling process which relaxes the muscles deeply.
Why Sensual4U Outcall massage in London is special
Sensual4U Hotel visiting massage in London is conducted by a model masseuse who is talented at applying her soft sensual hands to your body. Our Sensual4U Masseuse can provide an amazing tantric sensation with deep sensual satisfying results.
Massage is the most natural and health method of reducing long term anxiety and easing tight and knotted muscles which can lead to a completely relaxed state of bliss.    Our Outcall massage in London delivers the ultimate in tantric experiences thus evoking deep sensual pleasure and awakening.